7 day fishing in Soča region
River Soča is the jewel in Slovenia's fly-fishing crown
An important piece in the puzzle of the history of fishing was filled by local prehistoric findings from beneath Kozlov Rob in Tolmin. As a tool for the afterlife fishing hooks were found among other grave offerings. This makes it clear that hooks were used for fishing even by our prehistoric ancestors and that they were well aware of the important role fish can play in nutrition.
PROGRAME:
DAY 1:  Arrival to Tolmin (we can organise a transfer or rent a car from the airport). Accomodation at hotel and a little rest. Later in the afternoon youcan meet me at the agency and I will give you futher itinerary.
DAY 2:  After breakfast all day fishing on Idrijca river/Soča river/ Bača river... In the late afternoon individual visit to the Gorges of Tolminka river and visiting Devils bridge (1-2h).
DAY 3:  After breakfast fishing. Guided tour to Kobarid in the afternoon (15.00 – 18.00). You are going to visit the Museum of 1st world war, and Italian Sanctuary – where is also one of the most beautifull vieu on the Valley of Soča river. We will conclude the day with visit to the Cheese production musem with degustation.
DAY 4:  After breakfast – all day fishing.
DAY 5:  After breakfast – visiting Goriška Brda (the most known wine teritory) –    with wine and home made salami and proscutio degustation. Fishing in the afternoon.
DAY 6:  After breakfast all day fishing. Late afternoon a possibility of drive with boat on the lake of Most na Soči.
DAY 7:  After breakfast  packing and leaving for the airport (it can be organised).
*Min. 2 persons
PROGRAM CAN BE TAILOR MADE! WE CAN ALSO ORGANISE JUST ACCOMODATION AND FISHING LICENCE…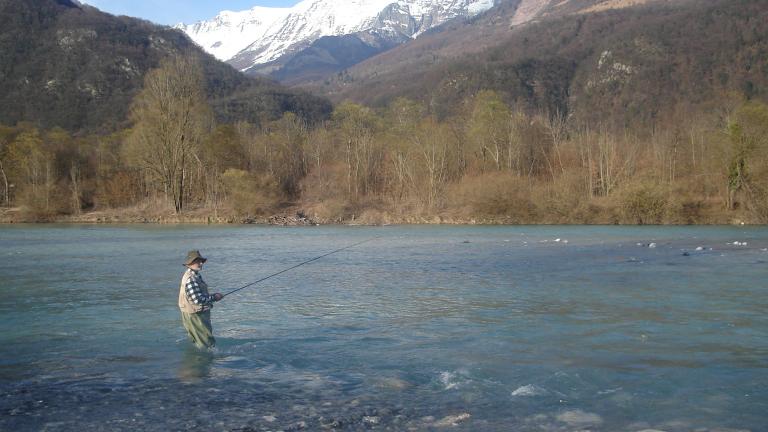 When
From April to October
Departures
By the programe
What is included
Accomodation in 3* Guest house including breakfast or apartment/room renting, 5 day fishing licence »Catch&release«, information material, organisation, V.A.T.
Price
569€ (rental) - 639€ (B&B)