Weekend fishing on Emerald beauty
With so much choice of world class fly fishing the only problem is deciding where to spend the day fishing.
An important piece in the puzzle of the history of fishing was filled by local prehistoric findings from beneath Kozlov Rob in Tolmin. As a tool for the afterlife fishing hooks were found among other grave offerings. This makes it clear that hooks were used for fishing even by our prehistoric ancestors and that they were well aware of the important role fish can play in nutrition.
ACTIVITY PROGRAM
FRIDAY
Arrival to Tolmin (upon request we organise a transfer or rent a car from the airport). Accomodation at hotel and a little rest. Later in the afternoon you should visit the office for futher itinerary options. In the afternoon, individual visit to Tolminka Gorges and Devil's bridge (1-2h). We reccomend dinner in Restaurant Tolminka gorges – good, home made products, local food like cold cuts (home made salami and local cheese and proscutio…) or hot meal like »frika« and you will be served with best prepaired trout.
Optional: guiding (+35 €)
SATURDAY
Fishing after breakfast. Late afternoon a possibility of drive with boat on the lake of Most na Soči.
SUNDAY
Fishing in the morning, leaving in the afternoon.
*Min. 2 persons
PROGRAME CAN BE TAILOR MADE! JUST ACCOMODATION AND FISHING LICENCE CAN BE ORGANISED…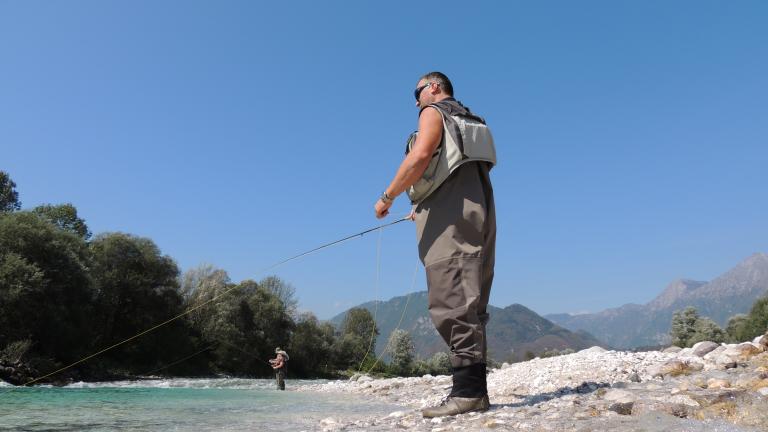 When
From April to October
What is included
3* guest house accomodation on basis of B&B or apartment/room rental, 2 day fishing licence »Catch&release«, information material, organisation
Price
245€ (rental) - 270€ (B&B)
Optional
Fishing equipment could be rented. 
Wine degustation, guided trips, transfers